In 2010 we raised £2,500 for the Big Issue at The Clothes Show and we cycled from London to Paris. We also funded the building of a school and financed a water well in Tanzania. In 2015, £5,000 was raised during our A21 campaign for Human Trafficking and in 2016 we raised £25,000 for the brilliant, Mind Charity. In December 2017 we worked alongside Breast Cancer's Coppafeel on a 'Check Your Boobs' campaign and we donated clothes to the homeless. We have also raised money for various charities including Alzheimers Society, Bowel Cancer, Child.org, Marie Curie, Breast Cancer, Forgotten Women and many more. For the past five years, we have sold 'ChariTees' including our famous boob T raising money for Mind Charity.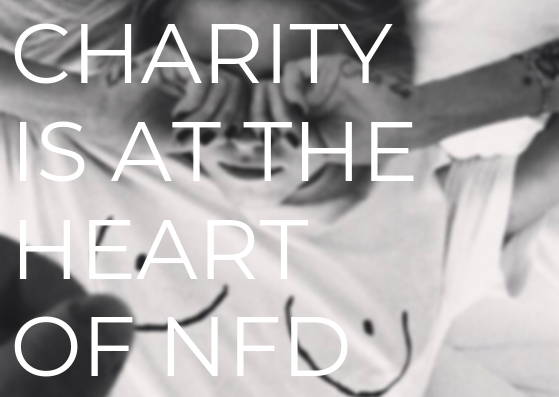 Here are some of our most recent Tees:
Love & Unity - The Love & Unity T has been designed to contest the violent rising of knife and gun crime, which is now at an all time high across London. To support this powerful message we have chosen 'The Ben Kinsella Trust'. A charity setup in memory of Ben Kinsella, who was innocently celebrating the end of his GCSEs when he was attacked and murdered. The charity campaign against knife crime and educate young people about the potentially devastating consequences of carrying weapons, so they stay safe and away from crime.
Francis T - Centrepoint is the UK's leading charity for young homeless people between the ages of 16-25. They support 9,200 young people every year, finding safe places for people to live, give them a health assessment and plan support for individuals' mental and physical health needs. They guide them on a path to more independence and getting a job.
Juicy T - Dig Deep works to help schools and communities get access to water and sanitation. They work together to build taps and toilets; to ensure that water and sanitation services are maintained for the long term; and to provide vital hygiene training to the next generation.
Help us, to help others! Stay sassy xoxo