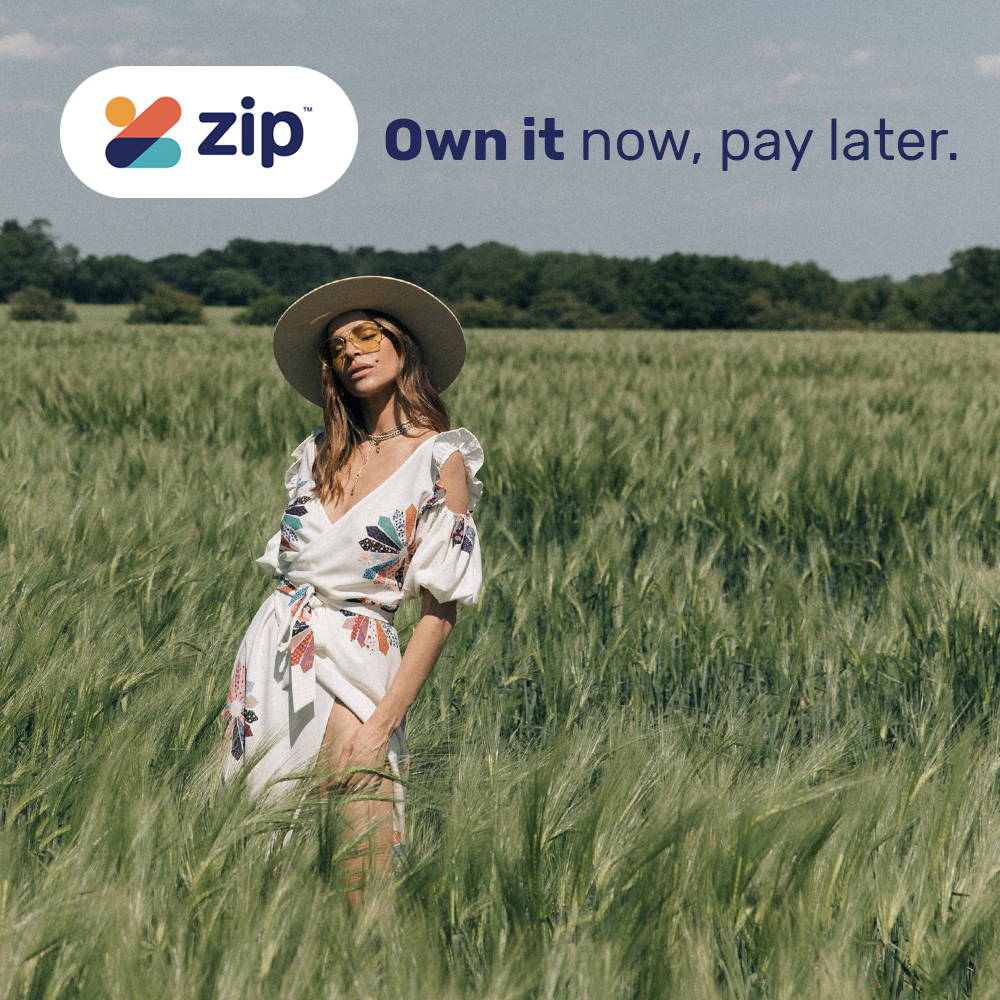 It's a new way to checkout now available on our website that lets you own it now, pay later.
This means you can get your favourite newness and more delivered now and spread the cost over 4 interest-free payments.

How do I pay with Zip?
Paying with Zip online is easy. When you get to the payment page (usually after adding delivery details), select Zip as a payment method. If it's your first time shopping with Zip, you'll need to enter some personal details (just name, date of birth and address) so they can do a quick automatic ID check and credit assessment. Their system does this in real-time and if it's all approved, and you agree on the instalment schedule, Zip will take the first installment. Once accepted, we will send the goods as we would with any other payment method.
What is required to make my first purchase using Zip?
The first time you use Zip, a few details will be needed from you (just name, date of birth and UK address) so Zip can do a quick automatic ID check and credit assessment. Their system does this instantaneously and if it's all approved, you agree the payment schedule and they take the first payment from a UK debit or credit card.
Is there really no interest and no extra fees?
Nope, Zip are not like traditional finance companies. As long as you pay your scheduled payments on time you will only pay the ticket price advertised and not a penny more. But if you miss a scheduled payment, and don't process a payment before midnight on the day it is due, Zip charge a £4 default fee and a further £4 for every week it is outstanding so make sure you have money in your account in advance of your payments coming out. Zip email you in advance every time as a reminder.
When will my payments be due?
Payments are automatically scheduled to be taken fortnightly. You'll pay 25% upfront, then 25% fortnightly for the next 6 weeks. Zip try to take payment during the day. If this fails, or if you'd like to make a payment earlier, you can log in to your Zip account (https://zip.co/uk/portal/) and manually make payment.For more information, visit zip.co/uk/help
I want to return my product, what do I do?
Returns are between you and the retailer. If any refund is agreed in accordance with the retailer's terms and conditions, the retailer can process a refund on your Zip order.
Will Zip affect my checking score?*
No Zip only carries out a soft credit check so your score is not affected.
*non-payment may affect your credit score
Klarna is the provider of payment services to more than 90,000 online stores. Over 60 million consumers worldwide have trusted Klarna to securely handle their payments.

AM I ELIGIBLE / WILL I BE ACCEPTED?
To use 30 days after delivery or 3 interest free instalments you must be at least 18. Whilst these options are widely promoted, they are subject to financial circumstances. When choosing Pay Later, Klarna's soft-search assessment will not affect your credit rating.

You can review your latest Klarna invoices at anytime by logging in at Klarna.com. If you need further assistance, visit Klarna's Customer Service. Remember to make payments on time . Not doing so could harm your credit rating.